What a month it has been in July it has been not only have we had the second hottest day in history but we have also worked tirelessly on some of our projects. We are developing relationships with some of our longer standing clients and have also picked up a couple of new clients along the way.
This month saw us return to an existing client that we haven't worked with for several months at Hargreaves Ductworks in Bury. We were asked to widen an opening in their workshop and create a pedestrian doorway along side. They requested we carry out these works during their down time on Friday afternoon and over a weekend and we were only too happy to oblige.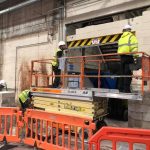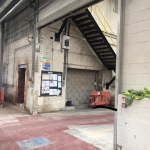 A new client for us this month has been William Reed Weavers in Nelson. After a call to look at some very large timber beams which were "sagging" we came up with a cost effective solution to support them and prevent them moving any further. We fabricated some support plates to bolt onto the sides of the beams and also installed a steel column to another.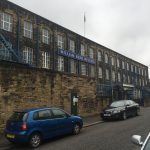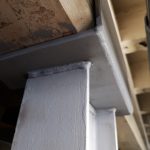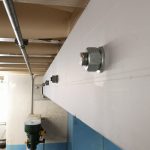 Following the beam strengthening we have also been awarded the contract to create a new laboratory on a different floor of the mill.
We were asked to transform a corner of the floor into a laboratory and adjacent office space. We duly obliged by first constructing the walls from timber stud and sheet timber, lining the internal walls with a pvc board to allow a wipe clean finish. Installed a suspended ceiling system with LED lighting panels and creating large window openings to the inside and also incorporating the original windows on the outside. Finally painting it all with a latex emulsion and gloss on the skirting and architraves to create a bright and pleasant workspace.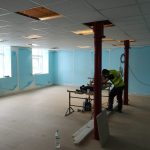 We are also continuing to work on a local house extension just 50 yards up from our workshop in Trawden using Bradstone T Block and cast stone cills and heads to replicate the local architecture of stone cottages.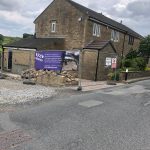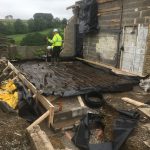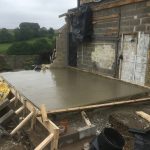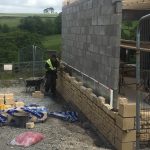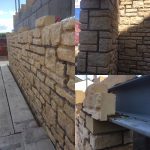 A comment from the resident was that "Charlie and Kenny are very polite and are keeping the area of the site very clean and tidy so there is very little disruption to our normal life".
July was also the month we invested in a new van for our steelwork division to enable on site welding and fabrication to be carried out following a request from a few of our customers. Chris is very pleased with his new wheels and i'm sure you'll agree it looks rather smart so watch out for it coming to a town near you.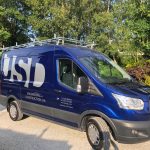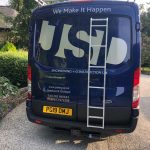 So now we need to pay for this extravagance so we have had the fabrication workshop working on several small projects this month for various different clients. Builders Merchants and Insulation suppliers and also a national concrete formwork supplier asked us to design a brace fitting solution for his formwork system.
For MKM (Burnley) we designed and fabricated a kitchen worktop storage rack to make the storage and unloading process easier and quicker. Following this we were asked to help make some use of dead space within some existing racking and Chris was more than happy to oblige with an ingenious set of brackets and bars.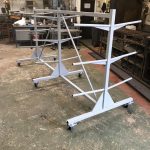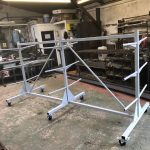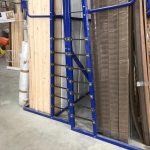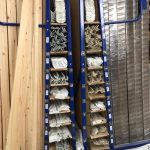 For Galaxy Insulation and Drylining we fabricated some pole stands to help with the wrapping of pallets, they were finding it awkward and cumbersome handling the heavy rolls of pallet hoods so wanted something to put the rolls onto so that they could just draw from them with ease.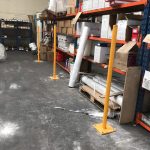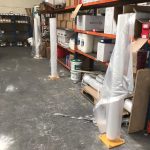 Hope you have all had a very enjoyable July and your year is going the way you all expected because I know ours is and we now look forward to the second half of the year with a rather full order book and lots of optimism for the future.
Thanks must go out to our hard working team of tradesmen without whom we would be nothing so THANK YOU!!
And don't forget –
Some people want it to happen
Some people wish it would happen
At JSD, we make it happen!